THE ARTS | Visual, Music, Drama
At Wesley Prep, we believe that arts education is an important means of stimulating creativity in problem solving and challenging students' perceptions about their world and about themselves.
Students at Wesley Prep are considered to be artists from our youngest to sixth graders, where all artistic efforts are valued as part of the learning process.
Our discovery-based art program allows student exploration and choice allows young artists to be the creative problem solvers of tomorrow, creating well-rounded human beings who enjoy new ideas and innovative ways of thinking. A favorite quote from Oliver Wendell Holmes says it best, "A mind that is stretched to a new idea never returns to its original dimension." Visual arts at Wesley Prep allow us to accomplish this awesome mission with great pride as we create lifelong learners for decades to come!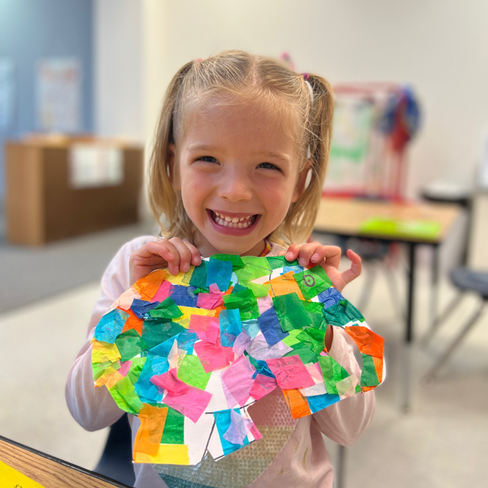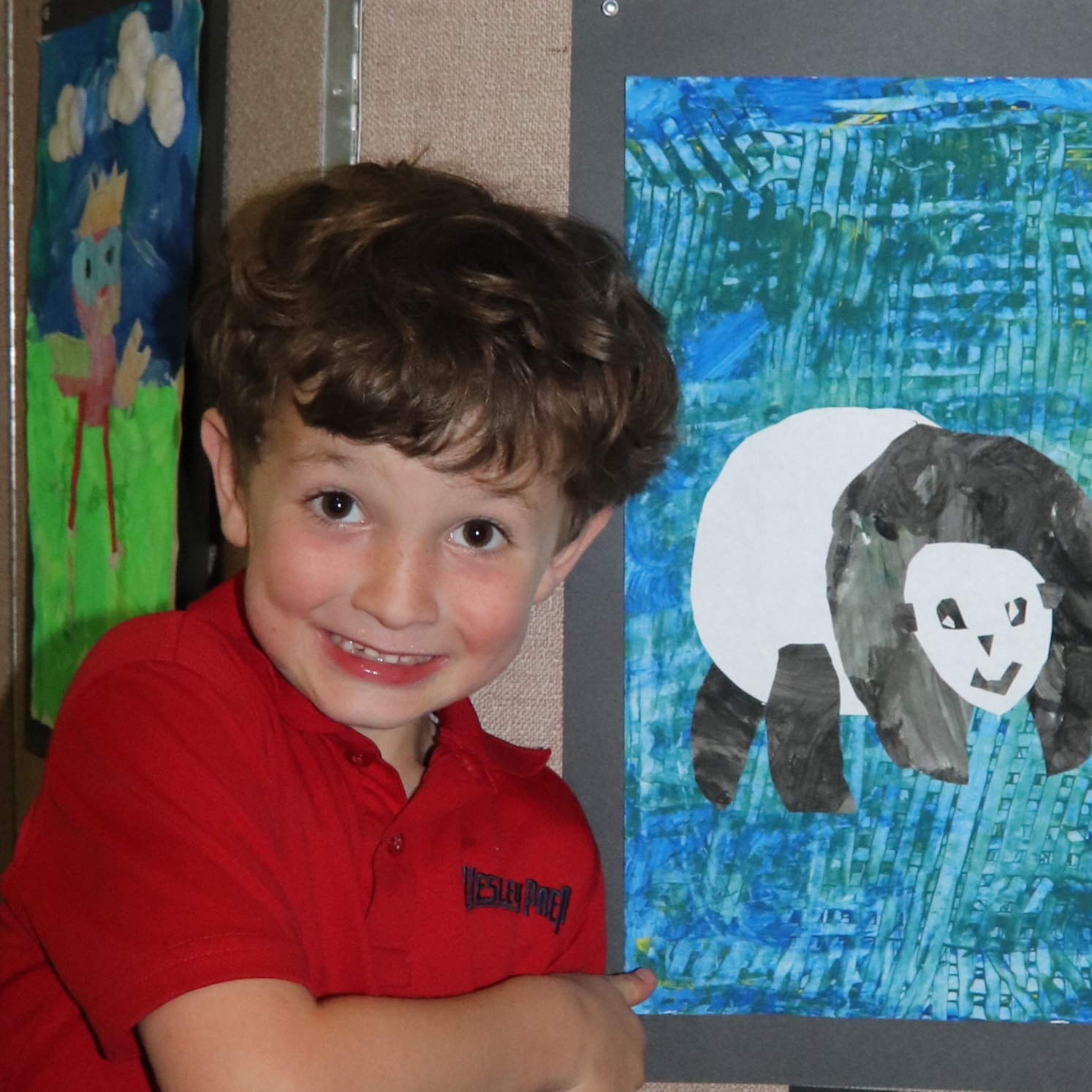 Art is an essential part of the curriculum in the lives of students at Wesley Prep. Children become self-confident through art with a positive learning environment which develops small and large motor development with age-appropriate activities. Classroom activities from K-6 are reinforced daily, connecting the visual arts to other academics. Oral communication skills are strengthened during discussions of famous artworks while students begin to build their personal art vocabularies. Students learn to handle various types of media independently and in collaborative groups. Older students or those with artistic confidence mentor those in need with a helping hand and learn to celebrate each others' successes in the art studio.
Our visual arts program enriches the educational experience with not only art production and techniques but art criticism and the aesthetics of all things that are beautiful in our world, utilizing the cognitive, social, emotional and physical needs of children in independent and collaborative group projects. Famous artist studies, field trips to local museums and visits with working professional artists allow our upper grades to create work that reinforces their self-esteem and personal pride and ownership.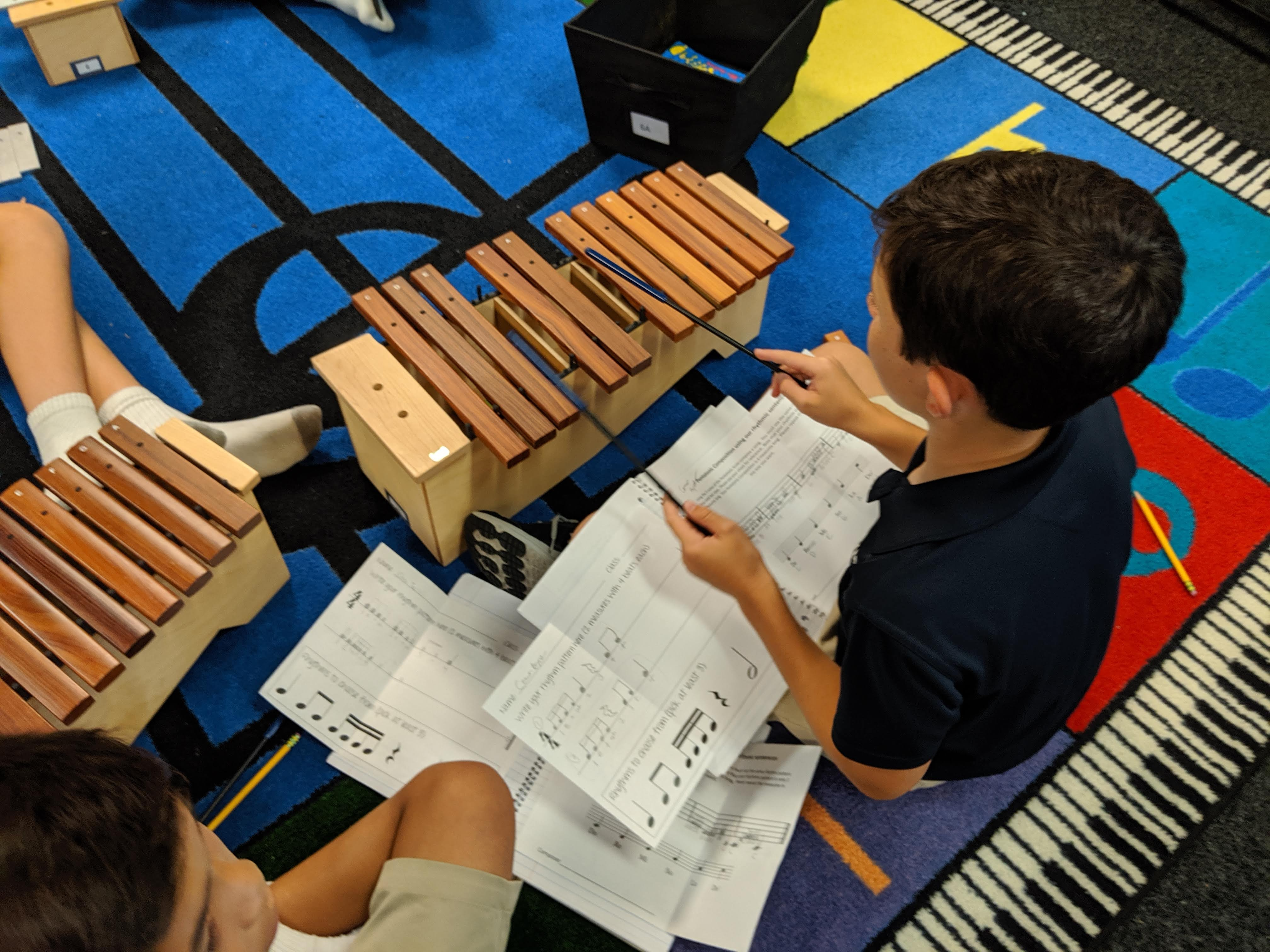 Music experiences are a vital enhancement to a child's educational journey. At Wesley Prep, music class is offered to all children in the school, from the youngest Mother's Day Out infants to our sixth grade class. Even the littlest ones learn to sit in a circle and listen to instruction. They sing along with the songs and play individual instruments in their own way, but it's amazing how early they start to come together. As the students advance, they begin to participate in more collective efforts and experience more sophisticated musical approaches, where the goal becomes musical literacy. Students are engaged in activities where they hear music of the highest quality, sing a wide variety of folk, seasonal, and patriotic music, derive basic music elements from the songs and listening selections, and perform.
In keeping with the integrated approach at our school, beginning with kindergarten, music is incorporated into the curriculum to coincide with specific units of study as well as current cultural events. We teach music with a body, mind, and spirit approach, providing activities that are not widely possible in larger school settings. We believe that music provides a creative outlet as a unique form of expression and that all children relate to music in some way. They gain confidence and a positive sense of self-esteem as a result of spending time in their music class. Whether a 12-month-old or a 12-year-old, our goal is to instill a love of music in each child that will last a lifetime. Confidence, self-esteem, teamwork, a love of music, and a strong work ethic are just some of the invaluable tools that will carry over into all aspects of these kids' lives.
Wesley Prep's elementary music curriculum is grounded in Orff Schulwerk. The Orff Schulwerk approach is a type of music curriculum where children learn about music in a way that engages their mind and body through a mixture of singing, dancing, acting and the use of percussion instruments. It takes the music curriculum and meets the child where they are developmentally without the loss of music integrity. In music class, elementary students play many different instruments such as xylophones, megallophones, glockenspiels, drums and recorders.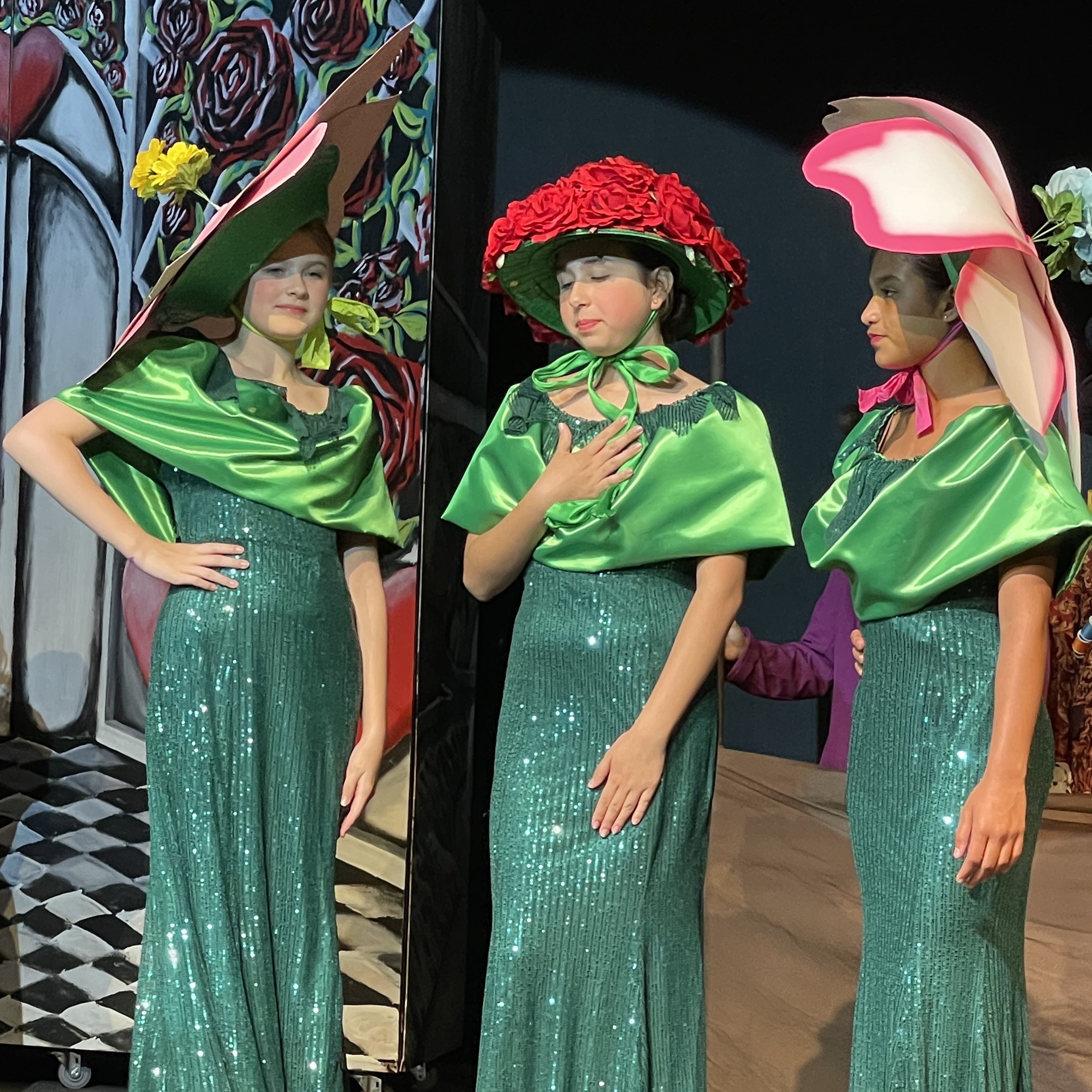 Spring Musical: Alice in Wonderland
Many times, children who seldom speak up in a regular classroom setting show great desire to sing a solo in a musical production. Each child is given the opportunity to participate as we believe that we are all members of a team and that each person plays a part in our success. We instill a strong work ethic in the children with the bar set very high, and the children rise to meet our standards each and every time.
All elementary students attend either a Creative Drama class (K-3) or an Elements of Theatre and Music class (4-6). At Wesley Prep, we believe that dramatic arts education is an important means of stimulating creativity in problem solving, challenging students' perceptions about their world and about themselves. Dramatic exploration can provide students with an outlet for emotions, thoughts, and dreams that they might not otherwise have means to express. Each class will work toward a specific program to be performed during the year.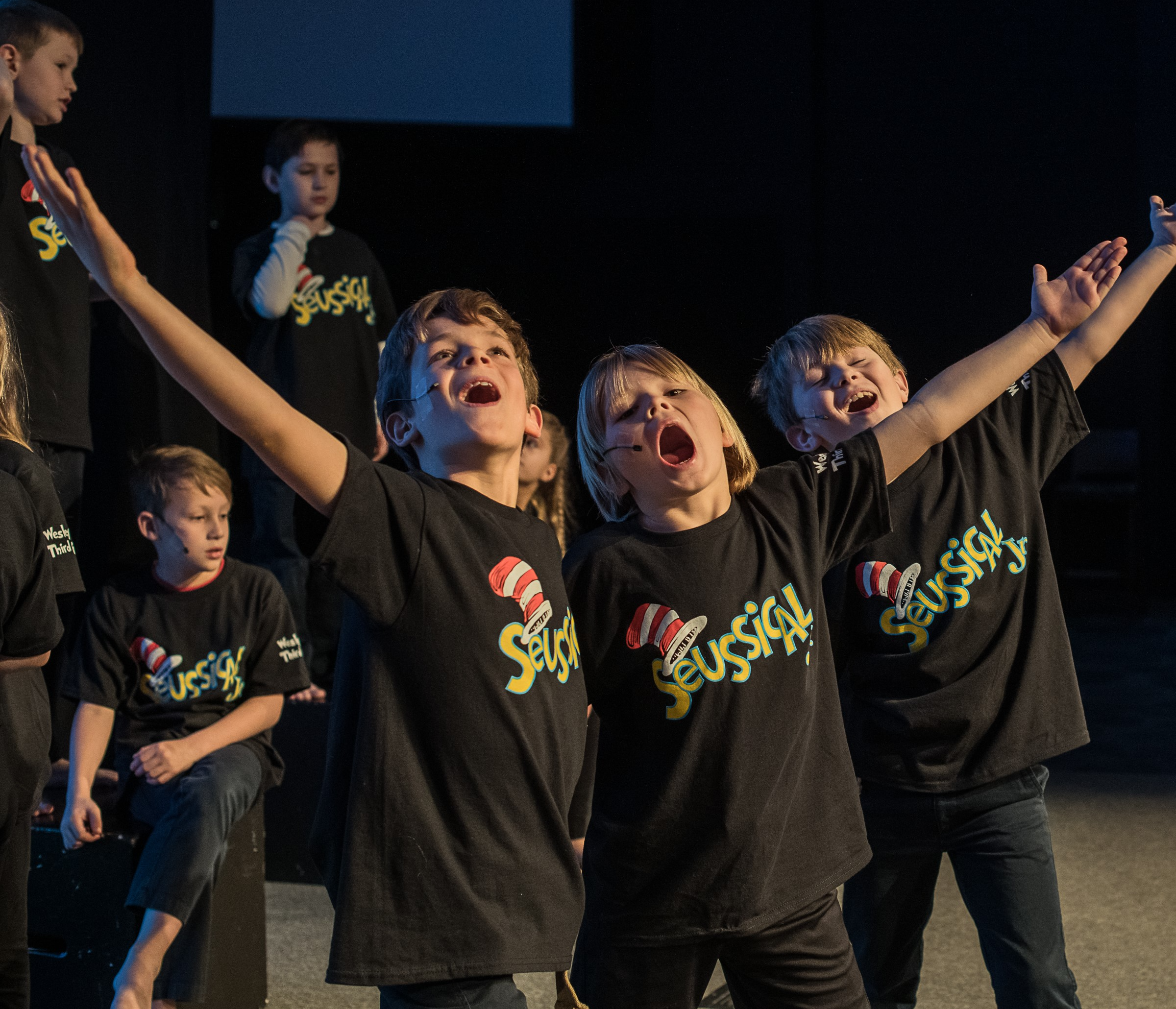 Third Grade Reader's Theatre Performance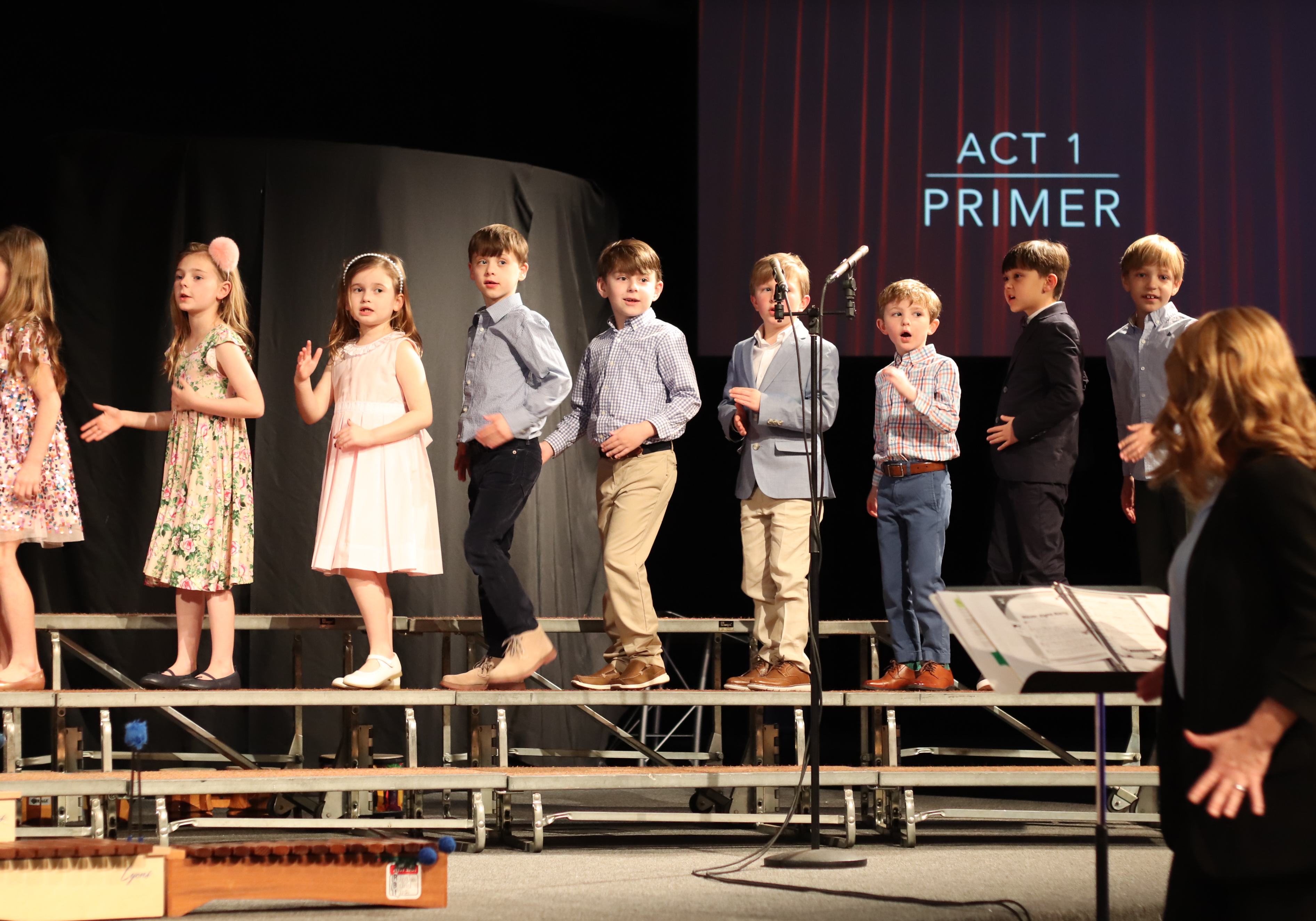 A Little Night Music Performance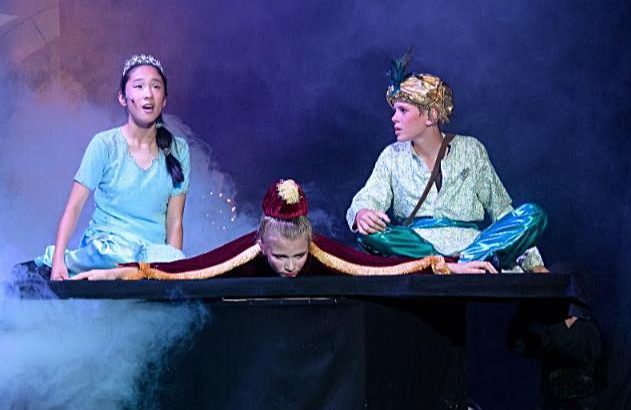 Spring Musical 2019 - Aladdin

Kindergarten Kaleidoscope Performance