Enriching experiences that produce self-directed, creative, enthusiastic learners. "It's inspiring to see our fifth graders find awe in the history of our country, the wonder of earth and life sciences, and the infinite pleasures of reading the words of authors that have left their mark on English literature."
—Sue Herring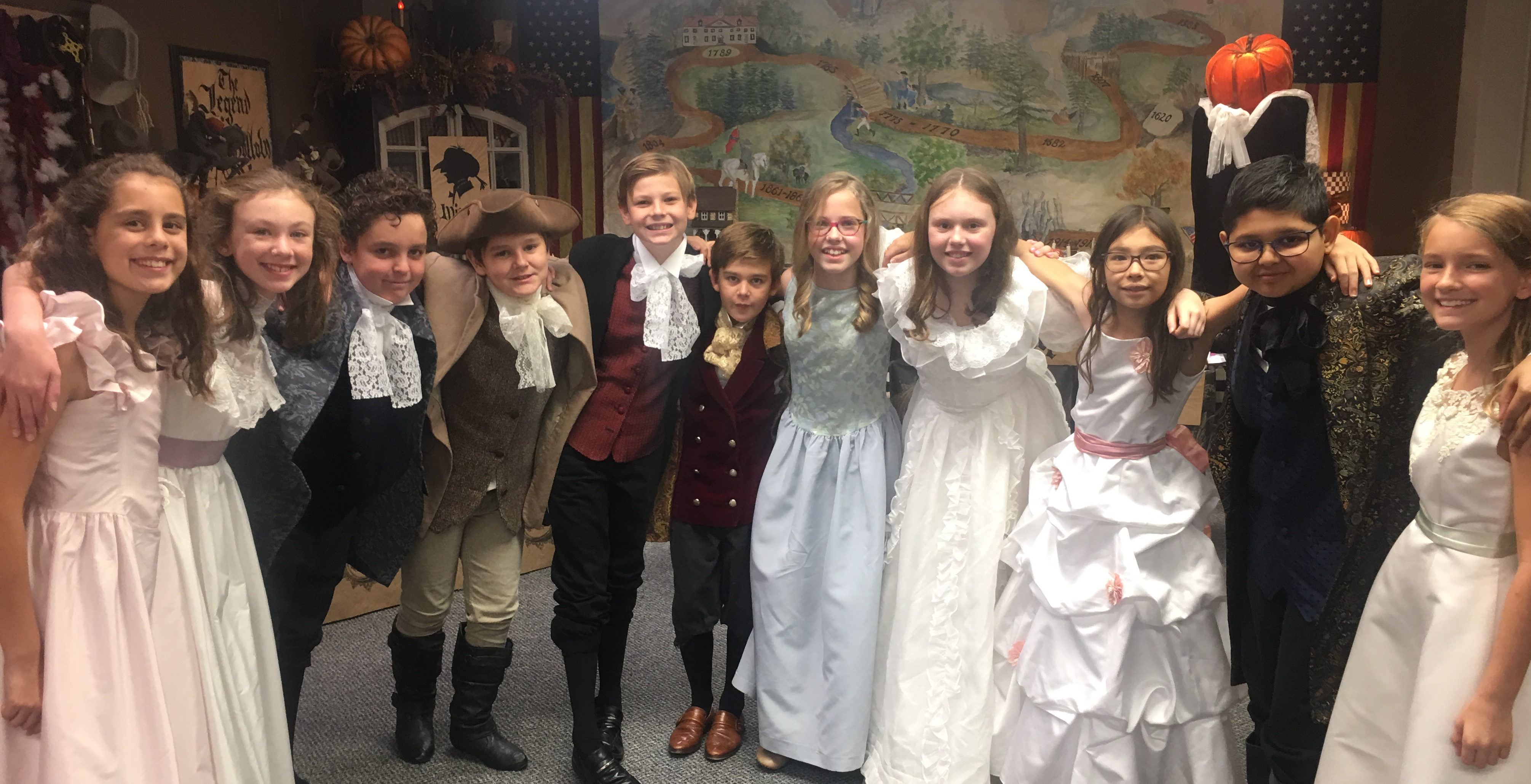 Performance of a Play Based on the Legend of Sleepy Hollow
5th Grade American History Project
The Wax Museum comes alive inspired by Ms. Herring and through the lens of Dallas photographer, John Derryberry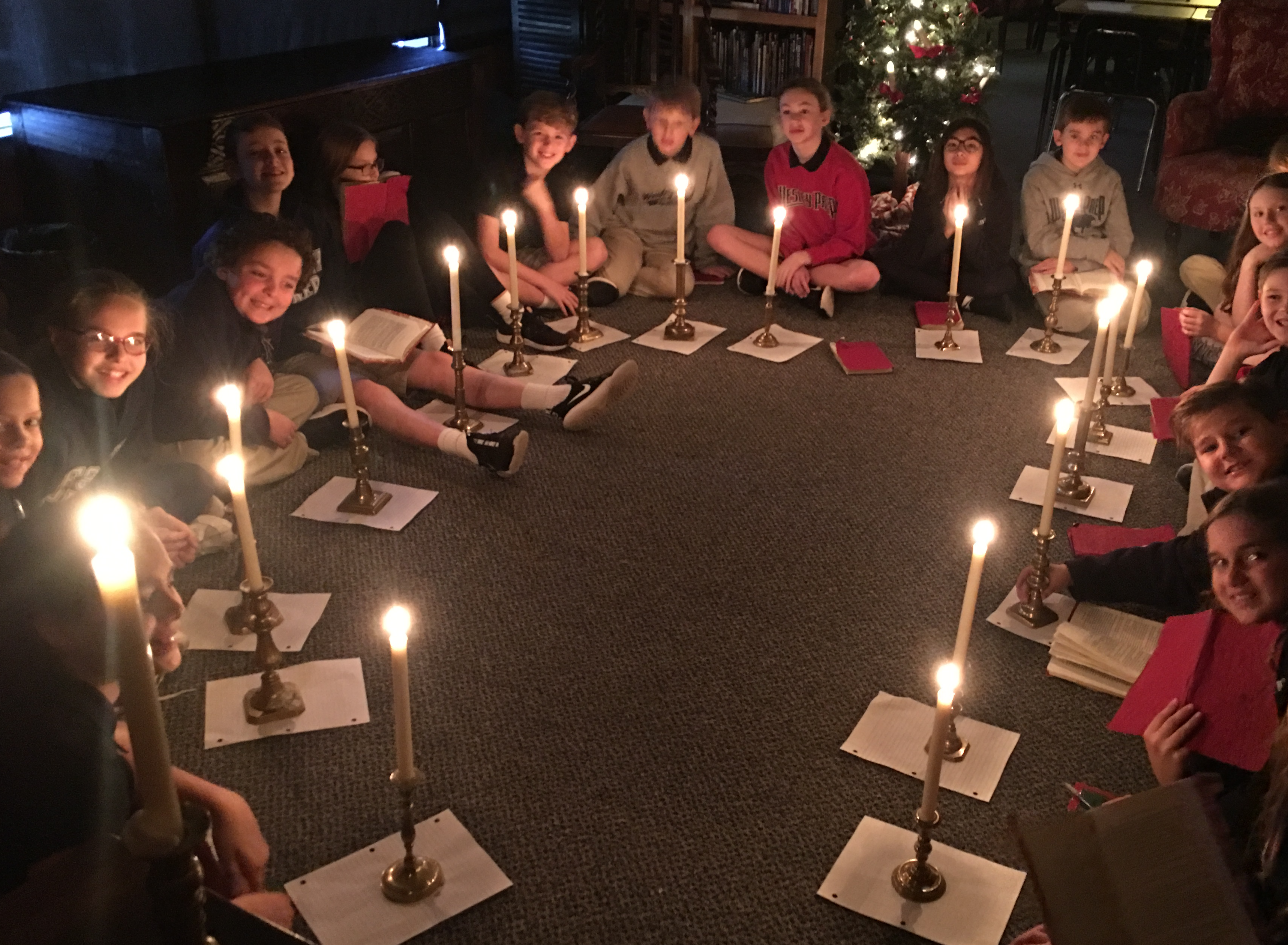 Reading Dickens by Candlelight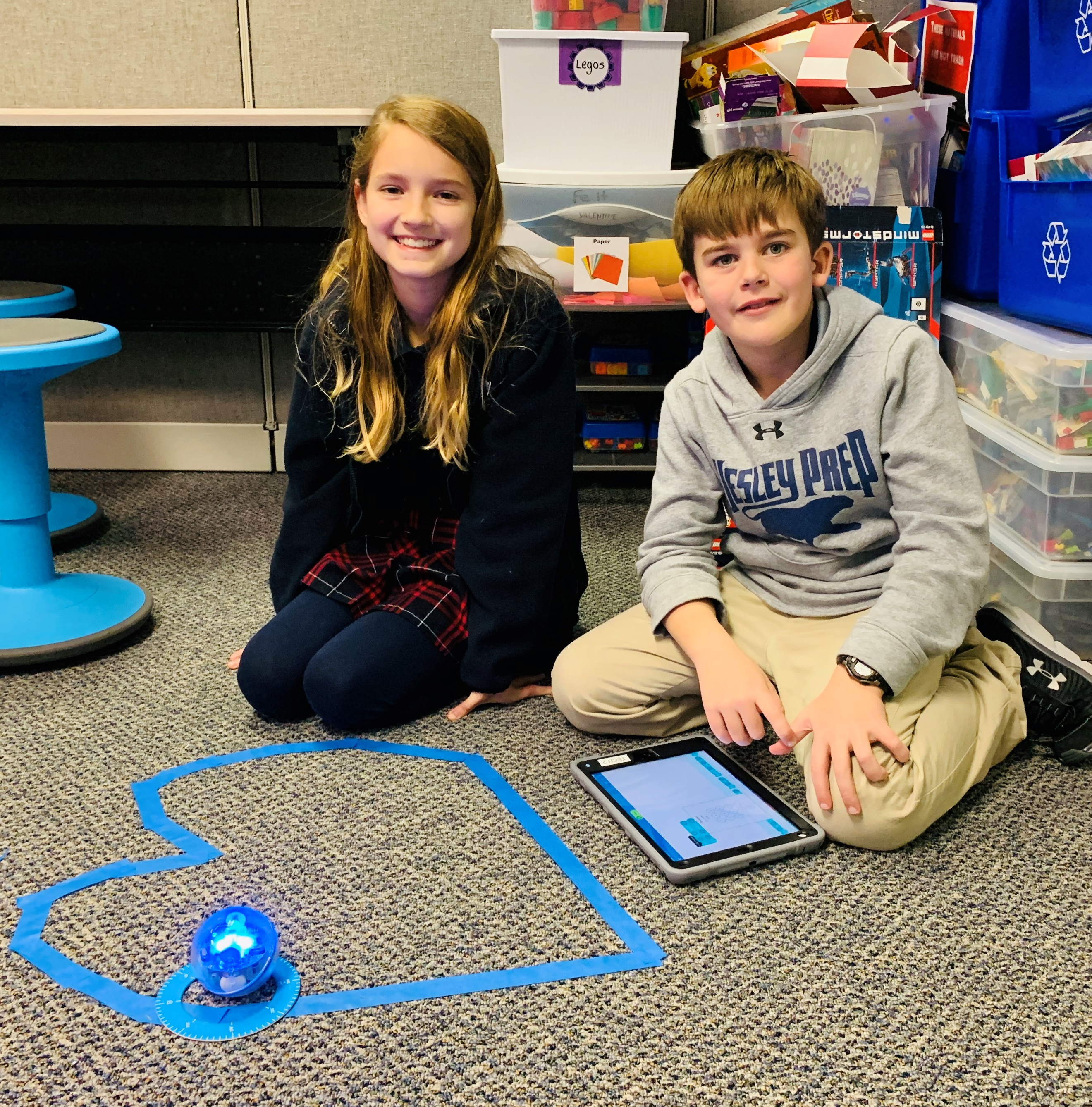 Programming in the Innovation Lab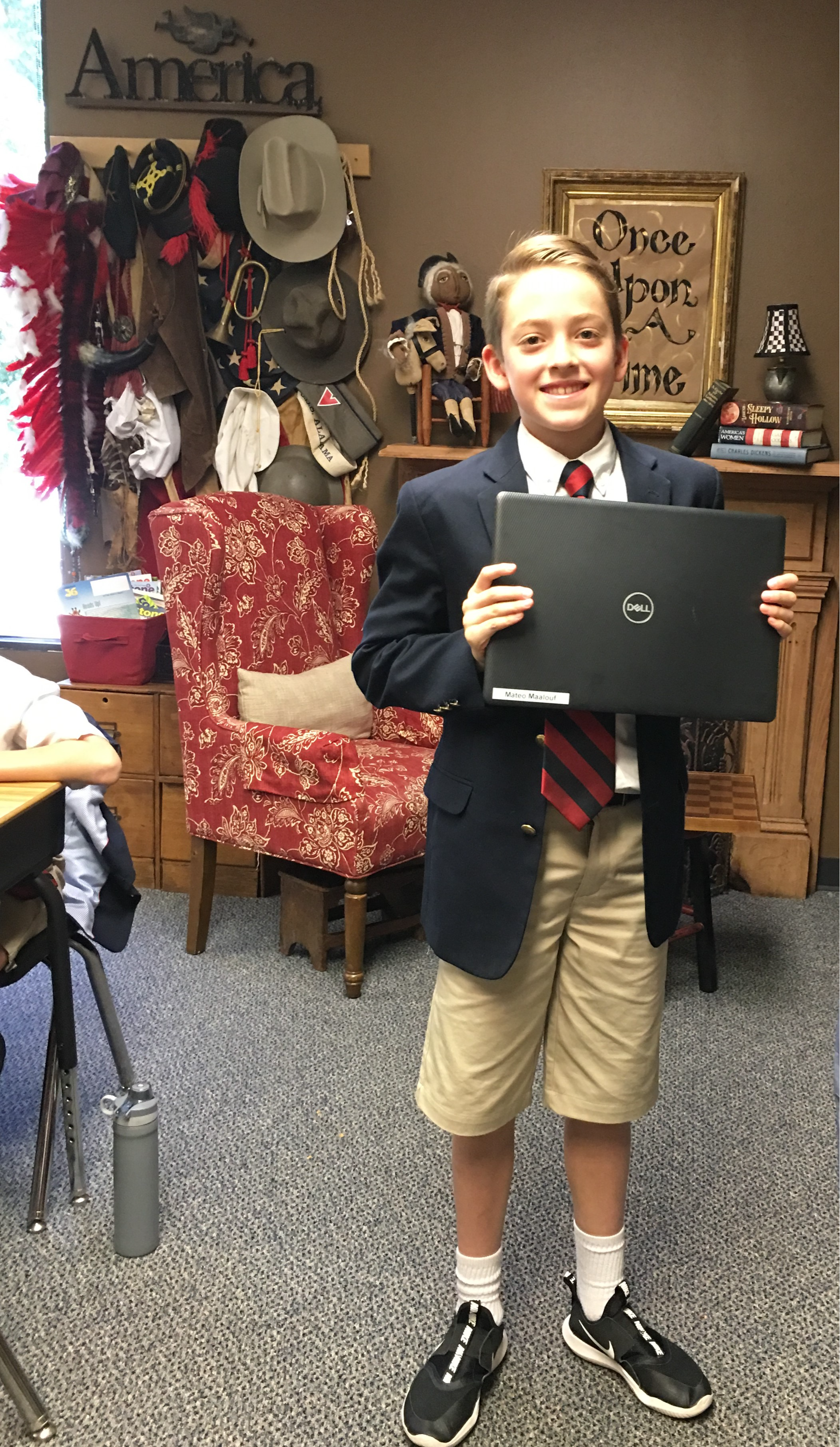 Student Receives His Own Laptop to Support Independent Learning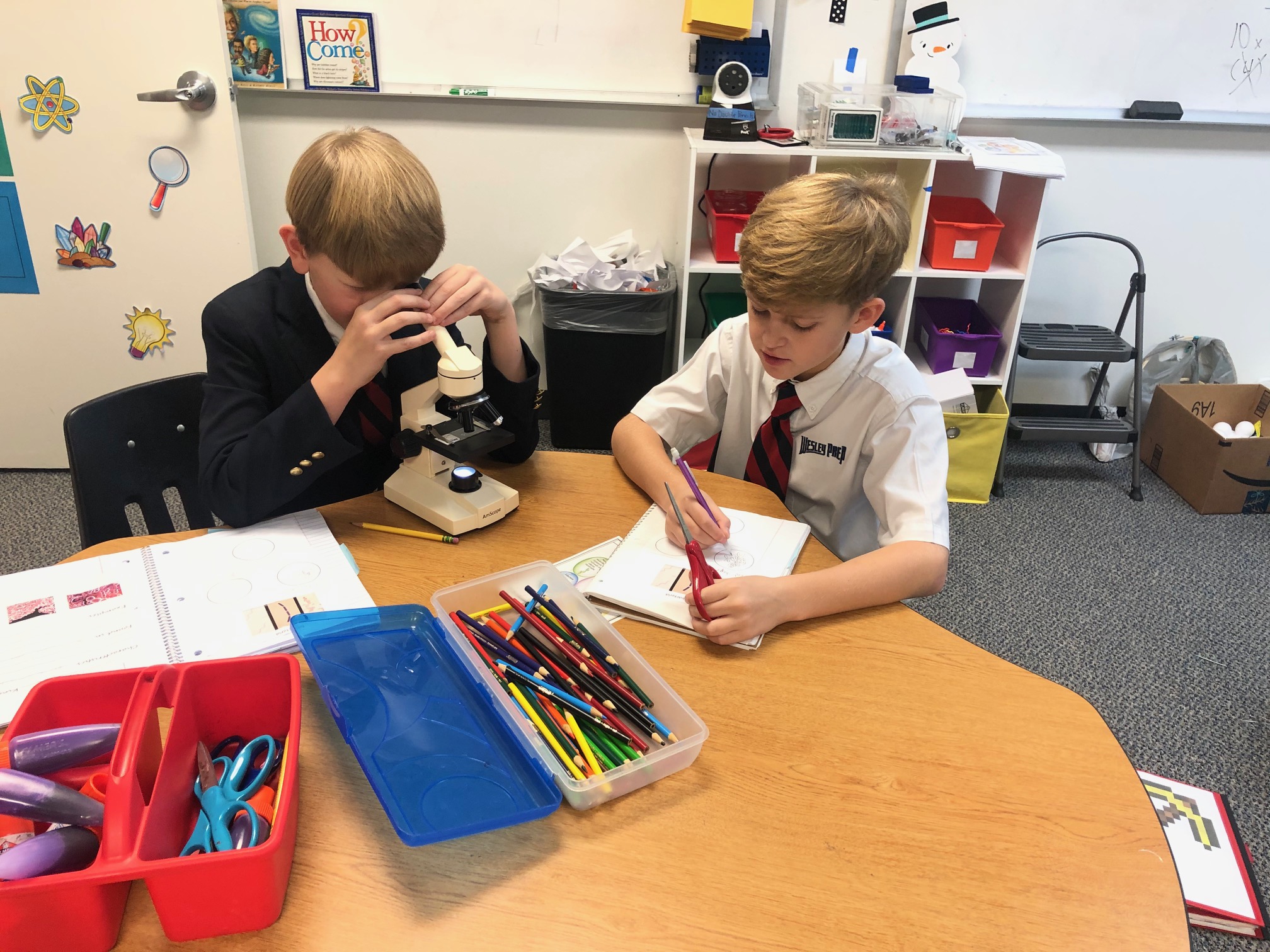 Cell Unit in Science Lab
How We Think About Fifth Graders
As the beginning of the last years of elementary school, fifth grade marks a milestone in the life of a student. Fifth graders can see where they've been and the anticipation of the future creates excitement. Their enthusiasm for taking in new information is overwhelming, and it is the year that they become aware of and start developing their own opinions. They learn to have questions and, most important, begin to realize that they are the stewards of their own education. The benefits of daily opportunities to participate fall squarely upon them. The teacher feels the responsibility of showing them their importance as individuals in the learning process and their importance within the class. At this age, it is a family atmosphere more than ever, where the students share each others' concerns and celebrations. During class discussions, they listen to each others' questions and learn to respond to each other rather than just responding to the teacher.
How We Emphasize and Reinforce Skills in Fifth Grade
Fifth grade is textbook- and objective-driven. In reading and math, skills are introduced and practiced and then returned to later in the year, allowing a second opportunity for mastery. Weekly quizzes over objectives taught in these areas enable our teachers to diagnose the needs of students.
How We Use Project-Based Learning in Fifth Grade
Projects don't drive the learning, but rather the project evolves from what's happening within the classroom. Ultimately, the project is not the learning but the memory of what was gained through the learning. Some examples from the Wesley Prep fifth grade curriculum clarify the point:
The study of Washington Irving's classic The Legend of Sleepy Hollow propels the class into analysis of the story and synthesis in the writing of a play.

The immersion into the world of Charles Dickens is the vehicle for compositions in Dickensian fashion.

The study of a historical figure from American history in the form of research comes alive when students are allowed to become that person for an evening.

Studying the earth's genesis becomes an indelible memory when a student uncovers an ancient creature on the side of a rocky hill in Oklahoma.
How We Differentiate Instruction in Fifth Grade
Differentiation comes in many forms in the daily classroom experience. It may be the questions that are directed to individual students and the teacher's knowledge of the student to stretch the thinking without frustrating the student. With the understanding of our students' needs both educationally and psychologically comes the variation of assignment expectations. These are communicated privately with students. Extension of lessons for those who have mastered the objective is imperative – not more work for higher-leveled thinkers, but varied. On the flip side, struggling students can be reinforced and aided in successfully mastering concepts with small group discussions.
How We Develop Character and Social Skills in Fifth Grade
Fifth grade is a family. It functions as a cohesive group. Everyone has responsibilities to care for the classroom and their classmates. Class meetings address everything from hurt feelings to happenings planned for the upcoming weekend. The students listen to one another and develop a clear understanding that what comes out of their mouths takes on a life of its own. They learn to celebrate each others' triumphs, which can be hard when you are not the victor, and rally around the disappointments. Understanding of each unit is vital and students are taught that no one is more important than the other, which can be a new concept to an 11-year-old. As one of the most senior classes, fifth graders know that they set the standards for younger students. They know not to bully, but to love, encourage, and be mentors.
How We Prepare Fifth for the Next Stage of Their Education
Fifth Grade does not need to be boot camp for sixth grade, but there must be a level of independence that is the result of a year in fifth grade. Through the idea of student responsibility for their fifth grade education to the spiraling of assignment difficulty, and the evolution from teacher-directed to student-directed learning, our students optimally complete fifth grade with a level of confidence in their own ability to tackle challenging material and be successful. Also, through constant dialogue with both the fourth and sixth grade teachers, we are always evaluating and refining what takes place in fifth grade.
How Our Fifth Grade Program Supports Whole Child Development and Experiential Education
No student is identified by one set of strengths (reader, mathematician) but rather comes to class each day with hurts, worries, concerns at home, and celebrations. We embrace this child with everything that they bring on a given day, and sometimes that means putting the lesson aside to listen, console, or celebrate. Until fears can be quelled of worries, the child can't learn effectively. As daily caretakers, we create an environment where learning can flourish.
How Our Fifth Grade Program Enriches Our Educational Experience
Through the writing and presentation of a play, caroling in costumes, acting in front of an audience, and camping in Oklahoma, fifth grade at Wesley Prep is a rich experience resulting in a confident, self-directed, creative, enthusiastic learner.
How Our Fifth Grade Program Reflects Age-Appropriate Development
The ten- and eleven-year-olds are ready to look outside their own world and begin to see what place they may hold in the bigger picture. Through the daily reading of the newspaper, the level of synthesis that accompanies lessons, the opportunities to act as leaders, and traveling to an environmental camp outside the state, students build a structure for strengthening their skills and continuing their love of learning that is the basis for being a contributing member of society.
Night At The Museum - American History Wax Museum Performance